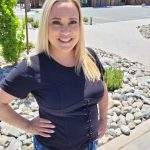 Erin Alcantar
Real Estate Agent S.177745
A little bit about me...
Erin was born and raised in the Bay Area, California and moved to Nevada in 2002. Right away, she knew she wanted to call the incredible community of Fernley home. Together with her husband and three children, they enjoy the outdoors, exploring the paranormal and Nevada's rich history.
She has been in the real estate industry since 2003, starting with the Reno/Sparks Association of Realtors, where she worked behind the scenes with Realtors to maintain their educational requirements for licensure.
In 2015, she became a Realtor herself, along with managing two real estate offices over the years. She recently decided she wanted to focus exclusively on building relationships with home buyers, home sellers, fellow Realtors, lenders, escrow officers and other affiliates. She chose 1st Option Realty because of the freedom it allows her to grow these relationships.