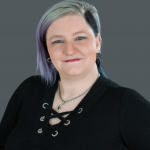 Sharisse Haney
Real Estate Agent S.198306
A little bit about me...
In 2020, Sharisse graduated as an I.T. major, but in 2021, found herself working at 1st Option Realty as the broker's assistant to help with technology as well as managing documentation, schedules and so forth. After a couple years of working at Dana Uhlhorn's side, she decided she wanted to start her own adventure as a Real Estate Agent, and received her license in 2022.
Her goal is a simple one; to help people who need a guiding hand in the chaos that is the real estate world. Buying a home is the biggest investment most people will ever make in their entire lifetime. The process can be overwhelming to many, especially first-time buyers, when it should be an amazing and exciting step in a person's life. Her intent is to take on that stress for buyers and sellers so that the process can be exciting, enjoyable and as smooth as possible.